With four kids, a husband, 3 dogs, and an elderly cat in the household you just NEVER know WHAT adventure is ahead of us, OR what one we just might be in the middle of.
Five weeks ago today my oldest son whom is 15 fell of off his bike. He complained his wrist hurt, but it wasn't swollen and he could move it. I suspected a sprain and gave him my wrist brace to wear. That Wednesday he fell off of his bike AGAIN. Complained a bit, but I didn't see anything and he really didn't seem in that much pain. 
The next day was Thursday, my birthday of XXX years (yea, like I am going to tell you!!). We were all having lunch at my favorite restaurant.  I looked over and his wrist was VERY swollen. I call the Dr. His staff asks us to come in 40 minutes.. PERFECT!!  We were next door

Yep, broken wrist, off to the specialist, more X-rays, no surgery, and a black cast…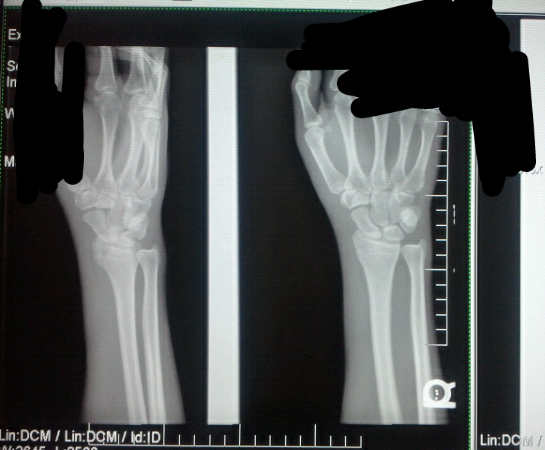 Today was the "Take the cast off day". I brought 3 of the kids with me. 15, 8, and 6.
I had to go to the bathroom. I gave instructions to the kids that if the oldest is called back that the two youngest whom were playing Angry Birds on my Nook Color to wait for me, and for oldest to go ahead back. 
Sure enough, while I am in the bathroom he gets called back. We join him in the room with the nurse using a saw attached to a vacuum that looked like a flobe with a circular saw attached to remove the cast.
It sounded like a dentist office when I walked in. ( A drill in a tooth sound!)  The 15 year old was WIDE EYED to say the least watching this nurse with a saw just centimeters from his flesh.
He does live through this adventure with no stitches or even a scratch from the saw. Another set of X-rays. Dr. comes in and gives the 15 year old a full release. We waited a hour to spend 8 minutes in the room…
We are all loaded in the car, driving away. I ask my son if he has learned anything or has anything to say at the end of this adventure. Without missing a beat, without smiling, and while still looking ahead he says:
Don't Do drugs
Uh? Mr. Neilson?
 He SO deadpanned it!!!  I said," What?"   He repeated again," Don't do drugs."
"What does drugs have to do with this"
"Nothing, just don't do drugs"
SO at the end of an adventure, look at the camera and say," DON'T DO DRUGS"